Sunday, February 24, 2008
Saturday, February 16, 2008
http://www.tribuneindia.com/2006/20061211/delhi.htm#6
PFA call to stop cruelty against animals
Our Correspondent
Gurgaon, December 10
The 9th International Animal Rights Day (IARD) is being organized throughout the world today, calling for the recognition of universal declaration of animal rights, informed Naresh Kadiyan, founder chairman of People for Animals, Haryana.
He lamented that in the so-called modern civilized society, human beings continue to inflict cruelty on animals in various forms such as medical and other experiments on animals, farming, blood sports, and other forms of exploitation in their day-to-day life.
The Universal Declaration of Animal Rights—that animals have a right to life free from deliberately inflicted pain, suffering, exploitation and death—has been signed by large and small organisations representing hundreds of thousands of people in n the UK, Argentina, Australia, Brazil, Canada, Cyprus, France, Germany, Hong Kong, India, Italy, Ireland, Israel, Mexico, Luxembourg, the Netherlands, New Zealand, Nigeria, the Philippines, Poland, Russia, South Africa, Spain, Switzerland, and the USA, revealed Mr Kadiyan.
Being Indian NGOs are the signatories, it is the duty of the central and state governments also to protect the animals from exploitation, he added.
Posted by

Naresh Kadyan
at 6:13 AM
No comments:

Monday, January 21, 2008
http://www.tribuneindia.com/2005/20050615/haryana.htm#3
Kadyan not afraid of being arrested in Pataudi case
Maneesh Chhibber
Our High Court Correspondent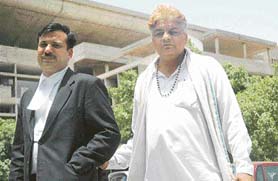 Mr Naresh Kumar Kadyan and his counsel in the Punjab and Haryana High Court on Tuesday in Chandigarh. — Tribune photo by Pradeep Tiwari
Chandigarh, June 14
Without him, the alleged poaching case involving former Indian cricket captain Mansur Ali Khan Pataudi might not have hit headlines. Without him, the case may well have been received a silent burial. After all, it was his persistence that built public pressure on the police to book Mr Pataudi and others for the alleged crime.
But, today, he himself is wanted by the police for his role, controversial some might say, in the digging of the carcasses of the animals allegedly killed by Pataudi and his accomplices and taking them to the Delhi zoo for a post-mortem examination.
Meet, Mr Naresh Kumar Kadyan, Chairman of the Haryana chapter of the People for Animals. Though he claims to be on the run, evading the police who, he adds, is working overtime to arrest him, Mr Kadyan turns up in the most convenient of the places.
If some days ago, he was photographed at a Panchkula police station, today he was present at the Punjab and Haryana High Court, where hearing of Pataudi's pre-arrest bail plea was taking place.
"I may be arrested anytime. But, I am not worried. Whatever the police may say, the truth is that they are under intense public pressure," he told The Tribune. Incidentally, Mr Kadyan had also moved the High Court for anticipatory bail. Some objection in the petition led to the withdrawal of the same and he is still to file a fresh writ.
Claiming that he is being pressured into getting off the case, Mr Kadyan says he has also been offered huge sums of money. "But, I told them to do whatever they could. I will see to it that this case reaches its logical conclusion," he asserts.
He maintains that he was forced to intervene in the matter as the matter was likely to be hushed up. "Within days, the black buck would have been replaced with a blue bull. Tell me, why were the accused not arrested immediately after the recovery of the carcasses? Why wasn't a post-mortem examination got done?" he asks.
Mr Kadyan also alleges that Mr Pataudi and his friends have been regularly coming to Haryana on a shooting expedition. "If they (wildlife authorities) visit his house in New Delhi, they will find many animal trophies," he alleges.
But, didn't he take the law into is own hands by "stealing government property" and obstructing government duty? "Whose crime is bigger, mine or theirs? I did what had to be done and I don't repent," he says.
Posted by

Naresh Kadyan
at 12:29 PM
No comments: